Alpine Inn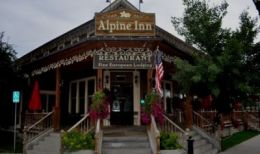 133 Main St
Hill City, SD 57745
605.574.2749
The Alpine Inn has been noted in several national and international publications for its friendly, homey atmosphere steeped in Old World charm and its delicious meals.  The luncheon menu boasts both ethnic European and contemporary dishes.  The famous streamlined evening menu features Filet Mignon and homemade desserts that are just as aesthetically pleasing to the eye as to the palate!
To locals and world-wide travelers alike, the Alpine Inn is known as a home town restaurant. We are open year round, serving lunch from 11:00 am until 2:30 pm and dinner from 5:00 pm until 9:00 pm.  Closed on Sundays.
We have 4 lodging rooms available on the second floor of our historic hotel built in 1884.  The Alpine Inn is open year around.  Please view their website for more information.